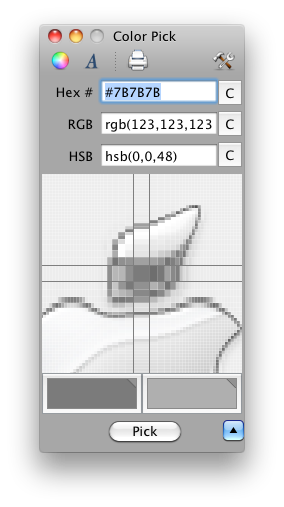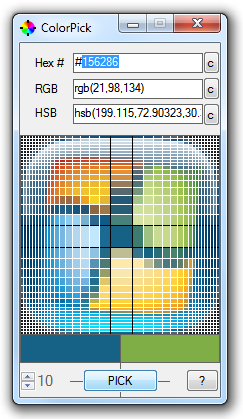 Images taken during development;
may not reflect final product.

Video of ColorPick

ColorPick Firefox Extension
Google Chrome Extension

Mobile Phone App
Buy ColorPick License
Color Pick is an Amazing Eye Dropper that allows precise selection of color values through it's one-of-a-kind zoomed preview!
Features
Press Pick and use mouse to select colors from anywhere on any screen!
Zoomable Color Picker Preview for Pixel Perfect Accuracy.
Use arrow keys or drag preview for fine adjustment.
View HEX RGB and HSL color values and copy the selection with ease.
Convert from RGB to HEX and from HEX to RGB (windows only).
Color History stores previously chosen colors during each session.
Installation
Mac - Open the .zip to unzip the .app, drag the app to your Applications folder.
PC - After installing the requirements, move colorpick.exe to the location you would like to store it. Double click to extract resources and run.